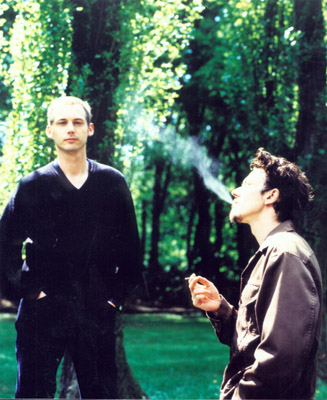 www.g-stoned.com - Official Site at G-stone Recordings.
www.stadler.org/kruderdorfmeister/ - Pretty good fan site, I got some of my info from here. Note: there are some errors on the site and it hasn't been updated for a long time.
www.gemm.com - Good site to find extremely rare music stuff, especially K&D records. Site changes constantly so always check back for new stuff.
www.blackmarket.at - The online record store in Austria that the G-stone site redirects you to, to buy K&D records. Really good selection.
www.homebass.ca - Online record store based in Canada. They have lots of K&D compilations and many of the 12" vinyls they appear on. This is one of the cheapest places I've found for vinyl stuff. Note: Look up stuff by the actual artist or song title, using just "Kruder" or "Dorfmeister" does not find everything they have for them.
www.mdos.at - Another online record store based in Austria where you can find hard to find K&D stuff. The site is even set up so you can select the currency of your country, which makes it a hell of a lot easier for purchasing stuff if you live in another country other than Austria. Plus most of the stuff is pretty cheap too.